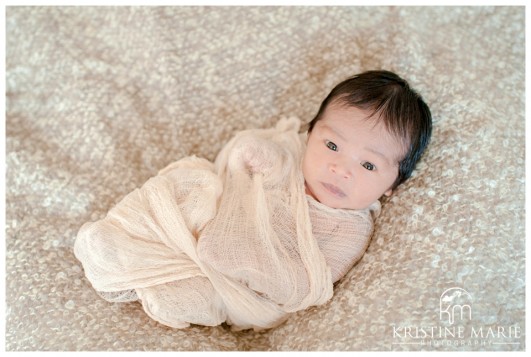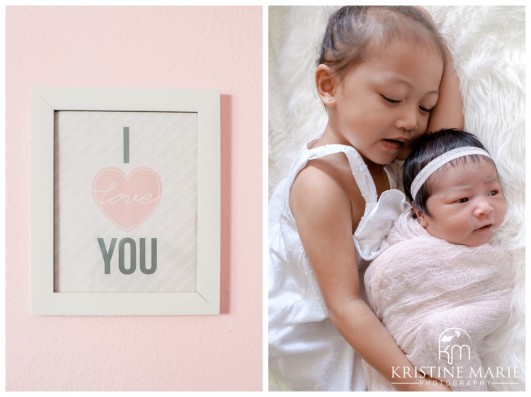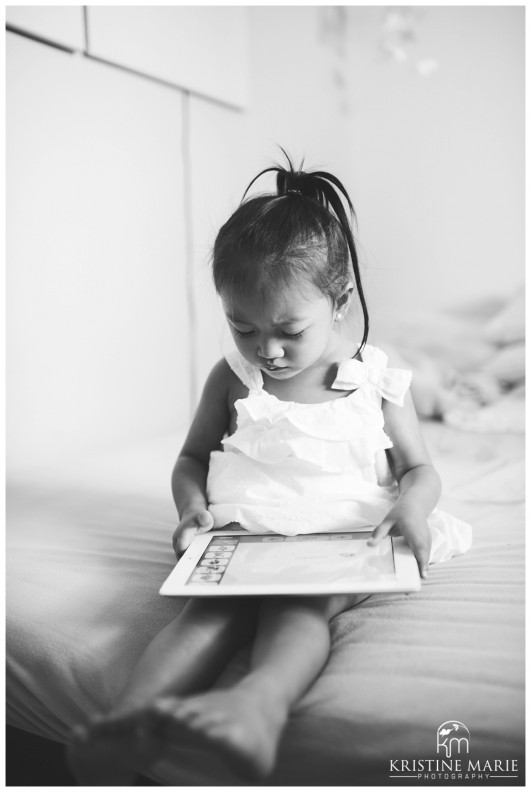 Little Ace was just the sweetest guy and looked great in all these fun colorful setups we did.  This newborn angelView full post »
Happy Birthday dear Emma!  So excited when I get to see my newborn clients again for a milestone session.  One year oldView full post »
ust eight days old, newborn baby girl Maizie fit perfectly in all of the props that I brought for our newborn portrait session. Her big sister, Maya watched curiously as I posed her little baby sister. Geraldine, mom to Maya and now, Maizie said, "Because this is our second child, it's so memorable for us to go through the whole process again. My husband, Nate and I would look through scrapbooks of our first born and remember the times when she was so small. It literally brought tears to our eyes because when you look back, you realize how fast time really flies."
Seven month old babies are so much fun!  They are the best models because they love to smile but they can'tView full post »
Nessa! I love one year portraits so much because often is my newborn clients that have returned for some milestones.View full post »
I took this footage 10 months ago during the mother baby portion on my newborn photo session with Angela and Laura.View full post »
Nessa One Year Portraits – San Diego Cake Smash Photographer
Below are some photos of our newborn portraits in Geraldine and Nate's home in San Diego, California.
Maya, who is two years old, is such a sweetheart. She's so friendly and welcomed me with a hug. I could tell how proud she was to be a big sister to newborn baby Maizie. I asked Geraldine how she shared the news to Maya about being a big sis:
This blog is overdue!  I first met Colbie when she was still inside her mommy when we did a beautiful beach maternityView full post »
« Nessa One Year Portraits – San Diego Cake Smash PhotographerSweet 9 day old – San Diego Newborn Photographer »
The photo below of baby girl Maizie reminds me of bedtime stories, and of storks delivering bundles of joy. Newborn baby Maizie fit so perfectly in the pouch that I crocheted. Her tiny little toes were peeking out from the pouch, which I thought was super cute. (Baby Maizie was kept safe and secure at all times). 
Newborn baby Maizie was awake and alert for most of our session.  Although she was awake, she wasn't crying and was very calm and would watch me curiously. She did eventually fall asleep, and we were able to get some sleeping photos. 🙂
Thank you so much for trusting me to capture your newborn baby girl's first portraits. It was such a joy to work with your beautiful family!
Categories Baby Milestone Portraits Belly Galleries INVESTMENT Newborn Galleries Newborn Session Info Testimonials Uncategorized Investment
Gorgeous Belly Shots in Mission Trails – San Diego Maternity Photographer
Behind the Scenes Mother Newborn session – San Diego Baby Photographer
Adorable First Birthday Shoot – San Diego Cake Smash Photographer
San Diego Baby Photographer This gorgeous baby came to me at 7 days old and slept so beautifully for her session.  SheView full post »
newborn baby girl San Diego Newborn Baby Photographer San Diego Newborn Baby Photography
Geraldine shares some advice to expecting couples: "The best piece of advice I can give to expecting parents would be to take things day by day. Things won't go as planned, especially with 2 young children, but you have to be flexible and patient.  Believe me, I'm no expert because I'm still working on those 2 things everyday, but being able to adjust is key.  Our daily routines and schedules got disrupted, but we had to try different things to make it work. In the end, it will work what's best for you and your family."
Welcome and thank you so much for stopping by!  I know there are many choices for photographers in San DiegoView full post »
"When my belly began to show more, we explained to her that mommy is carrying baby.  She's only 2, so we gave her a "dolly" who she can hold, feed and change so she would understand "baby" a little more.  As my pregnancy progressed and I got bigger, we began taking out diapers, wipes, bottles and clothes so she can see those items and understand more of why we have them and what we will be using them for.  She got more and more excited because she was going to be a big sister and she was proud to do the big sister role. She would hug and kiss my belly all the time and even talk baby in my tummy.  It was the sweetest thing and at that point, we knew she understood!"
I met this sweet couple in Mission Trails and we hiked to an open field that had golden grass and blue mountainsView full post »
Geraldine also shared some words to live by, "Babies are a blessing so enjoy EVERY SINGLE MINUTE!  They grow so fast, it's unbelievable.  Make memories and capture them, especially while they are small and in the moment. You'll look back and always remember this unforgettable time!"
With a gorgeous full head of raven hair at just one week old, sweet Elizabeth came to me last month for her newbornView full post »
Can't believe it's been a whole year since llan's newborn session!  Mom came loaded with cute hatsView full post »
Archives Archives Select Month April 2018 January 2018 March 2017 February 2017 October 2016 April 2016 March 2016 February 2016 September 2015 April 2015 March 2015 December 2014 October 2014 September 2014 August 2014 July 2014 May 2014 March 2014 February 2014 January 2014 December 2013 November 2013 October 2013 September 2013 August 2013 July 2013 June 2013 May 2013 Categories Baby Milestone Portraits Belly Galleries INVESTMENT Newborn Galleries Newborn Session Info Testimonials Uncategorized
HOME Newborn Galleries Baby Milestone Belly Galleries Investment Contact Christy
Geraldine is a wonderful mom and is also a talented small business owner. She owns a paper goods business, called Dolldine Designs.
What a lovely family I had the pleasure of meeting!  Maya came to me as a newborn at a week old and was so very sleepyView full post »
I love photographing newborns. Newborn photoshoots are extra special because there is such a small window for them. My goal is to capture those precious first days of a newborn baby because they will never be that small again.
Welcome, Newborn Baby Maizie! | 8 Days Old Newborn Photography
I LOVE when my newborn clients come back a year later for their cake smash one year portrait session.  I just stillView full post »
Newborn Photographer San Diego – Christy Wallis Photography Little Molly rocked her colorful newborn session likeView full post »
What a lovely family I had the pleasure of meeting!  Maya came to me as a newborn at a week old and was so very sleepy which let me do so many setups.  Even her handsome big brother was so photogenic and made the session fly like a breeze.  Mom loved the blushy and peachy colors which are some of my favorite so I had a blast creating all the beautiful setups for her.   I really do have the best job!
San Diego Baby Photographer – This gorgeous newborn baby boy came to me at 7 days old.  Big chubby rosy cheeksView full post »
New child photography might be exceptionally difficult , not only as a result of the models can tend to be just a little uncooperative, but additionally due to the reality they spend a number of time sleeping and little or no time smiling. This text has a few hints and ideas that ought to hopefully present you tips on how to photograph newborn babies and make sure that you end up with a shot that the family will wish to treasure forever.
The lighting of your shot can be particularly important. You don`t wish to go exposing newborn eyes to brilliant flash bulbs, so attempt to take photos in circumstances which can be naturally shiny when photographing newborns. Enhance the ISO and publicity compensation in your camera in low light levels , however test to ensure that the picture would not turn out to be too grainy as a result.
Make sure you consider the angles at which you take your shots. It may be very straightforward to fall into the behavior of at all times capturing from above, so earlier than long you have got an album stuffed with shots wanting down at the child. Strive getting down on the same stage because the newborn, and permit them to fill the full body of your photo.
Give attention to among the smaller facets of their face, or on a single hand or foot to get some really fascinating macro shots. It is often an concept to maintain your digicam on a steady capturing mode, as a child `s expression can change incredibly quickly. Take numerous photographs for every setup, and hopefully you may be left with one excellent one. Digital photography allows you delete any undesirable shots.
Remember that these pictures are being taken to seize the second and to look again on in years to come. Consider what pictures and recollections you wish to preserve. If there is any merchandise or toy that plays an necessary part in their early days, capture it. The household shot is all the time a favorite ; so make sure you get considered one of both mum and pop with the baby. Another traditional pictures to contemplate are ones with the newborn `s hand or foot in its mom `s hand to emphasize the distinction in measurement , or photographs of the mom nursing seize the intimacy of the relationship.
By following these newborn photography suggestions you will be able to improve your photography expertise and end up with photos worth wanting again on a few years from now.
IMAGE COLLECTIONS : Gorgeous Newborn Maya San Diego Baby Photographer