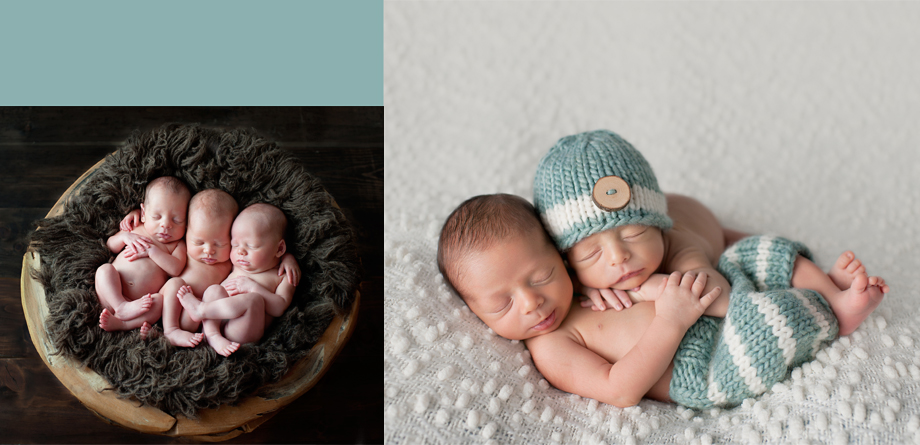 I would highly recommend Christy to do your newborn's photos!!! She was so patient with our newborn baby girl who was 6 days old. Christy took her time, gently posing our daughter, and then waited patiently to get the perfect shots. She knows all the facial expressions on newborn babies just before they smile, so she waits to capture them at the right moment. Christy was so accommodating. She does the photos in her family room and opens up her home to you. We had had a rough night before the photos. I had chosen 1 hour of sleep over a shower, so my husband and I had decided we wouldn't try to get photos with us and our newborn baby. Christy lent me a white tank top to wear so that I could get shots with our newborn baby. She also stayed over our allotted time to make sure we got those parent shots with the baby even though she needed to pick up her son. Christy has 3 children, and she gave us tons of advice on how to calm a newborn, swaddling, etc. You can tell she loves little newborn babies and is passionate about her work. She even gave us a paci that was better suited for a newborn than the one we were trying to use since we had no idea! I think Christy's prices are reasonable, and I like how she offers the digital prints and different photo and canvas packages as well. I felt like we also got tons of advice and care with our child, so the price was definitely worth it. Overall, our experience with Christy was awesome, and the photo previews we have seen are so beautiful and special. I can't wait to see the rest of the images! I know we will treasure these first photos of our newborn baby girl forever! Thanks Christy!!!
Yelp users haven't asked any questions yet about Christy Wallis Photography.
I think it's pretty safe to say I fall in love a few times a week or more depending on how busy I am.  That is, fall in love with every tiny baby that I get to hold in my arms and mold into these lovely poses.
 I melt with their newborn scent and with the beautiful innocence of their being.  I consider myself to have the best job in the world, documenting these new little beings that are so perfect.  Claire was no exception.
 Her parents were so charming and loving and I really enjoyed the few hours we got to spend together.   When Claire was still in her mama's belly, we took photos on the beach in Cardiff.  We couldn't see her, but she was there in the form of a beautiful belly that her mama so lovingly would hold in her hands.
 And here she was at her newborn session a few months later, with her parents entrusting me with the greatest new love of their lives and truly I am humbled.   Thank you for trusting me with your most prized possession.
 I hope these photos will hope you remember her in all of her newborn perfection. ♥
Tags:  newborn newborn photography San Diego newborn photographer baby photographer San Diego baby photographer San Diego baby photography maternity photography beach photography baby shower
Found Christy Wallis online and was automatically In love with her photography style. I was mesmerized by the fabrics and timeless style she created/captured. I booked a session for my son's newborn photos. The photos were taken at her home in Carmel Valley. Her space was comfortable and I enjoyed seeing her work and my son. The photos turned out just as outstanding as I had hoped. Thank you so much!!!
Christy was amazing and so talented. She captures beautiful photos and precious memories of your little ones. She did our newborn and 1-year smash cake photos for both our kids and I absolutely love them. She is easy to work with, very friendly, professional, and experienced in getting the perfect shot! Highly recommend! Thank you again.
Christy did an amazing job taking our sons first pictures. My wife and I are so happy we chose her.
This review comes late, but we must say that Christy did such a great job with our daughters one year photos. The photos were so beautiful that we had such a hard time picking the ones we liked the most for our package. If my wife and I have a second little one, we will definitely call Christy.
Absolutely love how Christy does her pictures!! Already did our newborn and 6 month photos! Planning on doing first birthday pictures with her too! Totally helps that she understands red headed babies!
This review is way overdue. Christy did our son's newborn shoot back in January. Let me start by saying she is amazingly talented and extremely patient. She was able to fit us in with very short notice and she took such great care of our little one throughout the entire shoot. We will definitely be back!!!
Text a link to your phone so you can quickly get directions, see photos, and read reviews on the go!
We had such a great experience with Christy. She did an awesome job photographing my son. Initially we had scheduled to have a session with Christy when my son was 1.5 weeks old but had to reschedule for the next week. Christy was very accommodating and scheduled us to come the following week. She did an excellent job in capturing photos of my son. She got him to smile in a few pictures. Photographing a newborn is not an easy task but Christy made it look so easy. She handled my son with care and was very gentle. I'd definitely recommend Christy to others out there that are looking for a photographer for their newborn.
Christy is amazing! She is truly talented and her pictures are flawless. I did some research and looked around for a newborn photographer and I fell in love with her style. I contacted her via email in March and she responded very quickly, and answered all of my questions. I decided to book a newborn session, it was done through her website which is very easy to navigate. My son was born this past June and the process was very easy to set up his photoshoot. As soon as we arrived at her studio we felt very welcomed. It was so awesome to watch her work, swaddle our son, and pose him in all these adorable poses. A week and a half later she emailed us the pictures. We loved them all. Every picture is so adorable. We went with her collection D package and we got all the digital copies of the pictures, 3 mini books, a big coffee table book and a canvas! I highly recommend this package because you will fall in love with every picture. We also decided to order birth announcements as well. I am so glad we did because they are perfect and they came in the mail very quickly as did the 3 mini albums. The other big book and canvas come a week later. I am so happy to we chose Christy to be our photographer. I can't say enough good things about her. We will definitely be going back to her for the 1 year cake smash pictures! I recommend her to anyone looking for a photographer, you will have the cutest pictures.
"She also stayed over our allotted time to make sure we got those parent shots with the baby even though she needed to pick up her son." in 2 reviews
« Beautiful Growing Family – San Diego Newborn PhotographerRainbow baby Hayden – San Diego Newborn Photographer »
Christy photographed our new born daughter, Claire & we absolutely loved her! She made us feel so comfortable & captured such beautiful photos of our baby. Such a wonderful experience – we can't wait to look back on these photos as Claire gets older. Highly recommend Christy as a new born photographer in San Diego!
"Christy did an amazing job with the newborn photos of our son when he was only 6 days old." in 8 reviews
Christy did an absolutely amazing job with our newborn pictures!!! It was beyond our expectations. Our baby came 3 weeks early and Christy still was able to get us in when our daughter was 5 days old and took some amazing pictures. She was so patient (even after getting peed and pooped on by our daughter!) with both our newborn and our 5 year old who wasn't wanting to cooperate at first. I loved all the props and she really listened to what we wanted as far as colors and themes. I wouldn't hesitate to use her again! I don't think I can use enough exclamation marks to show how happy I am with how our pictures turned out.
Christy was absolutely amazing to work with. She did our maternity and newborn pictures, and really listened to what we wanted! Highly recommend
+1 +31 +32 +33 +34 +39 +41 +43 +44 +45 +46 +47 +48 +49 +52 +54 +55 +56 +60 +61 +63 +64 +65 +81 +90 +351 +353 +358 +420 +852 +886
We love Christy! We found her online while I was pregnant and absolutely loved the photos from our newborn session with her (Jan 2017). So much so, we came back for our little one's one-year photos. Christy does excellent work for a very reasonable price. She makes the parents feel very relaxed and comfortable. I couldn't ask for better. The photos are beautiful and have captured a time that, for us, is passing way too quickly. We will be returning to Christy for future milestones and any other children we may be blessed with.
HOME Newborn Galleries Baby Milestone Belly Galleries Investment Contact Christy
Christy's is awesome! Our newborn pictures came out absolutely beautiful. She also went above and beyond to get my non-cooperative 2 year old in the picture. Amazing work!
Christy did newborn photos for our son. I loved her natural style and although she's pricier than some photographers, she is SO worth the price! Christy was amazing! So fun to work with and easy to talk to while you're hanging out for three hours. I loved all our photos. Thanks again!
Loved Loved Loved my maternity session and newborn session. When I searched for a photographer I really wanted somebody who would take the creative side into their hands since I am the least creative person around. She was amazing at asking the right questions to find out what I wanted out of both sessions. Most importantly, she was gentle and great with my son when we went for the newborn session and making sure to take breaks to feed and making sure he was comfortable and that I was okay with everything she was doing. I love her style and the photographs turned out amazing and I could not be happier.
Christy has done an amazing job with my daughter Luna for both her newborn and 6-month milestone sessions. She's very easy to work with, very kind, professional, and patient with Luna. I've received many compliments on all of the pictures Christy has taken of Luna so far.. I can't wait for her cake smash session in a few months! Christy truly is an AWESOME photographer!
"Christy is a real gem and I would highly recommend booking her for your newborn, maternity and family portraits." in 7 reviews
Understand how a business' rating changes month-to-month. Learn more.
Christy is an amazing photographer! We loved our maternity and newborn session photos. She was so patient working with our toddler who has only a few second attention span. She got amazing photos of him during our maternity session even though he was really over taking photos. I can't recommend her enough!
5 stars 57 4 stars 1 3 stars 0 2 stars 1 1 star 1 We calculate the overall star rating using only reviews that our automated software currently recommends. Learn more.
Thank you, Christy, for some gorgeous photos of my daughter! Christy is so patient and worked through my daughter's fussing and got us some lovely photos. She is so professional and kind and has a great eye for baby photos. Just be warned that because she is so good, try to book her far in advance… I couldn't get in with my son because I waited too long so I booked her at like 5 months pregnant with my daughter.
I 100% recommend Christy Wallis Baby Photography! My husband and I LOVE the photos we had taken of our son as a newborn and again for his first birthday. Even when the "model" isn't being the most cooperative, Christy's work still looks absolutely amazing. We are grateful to Christy for providing us with such beautiful memories to cherish for years to come.
Related Images of Claires San Diego Newborn Photography Session